The Herbalife24® Trial Pack.
Date:
Thursday, October 24, 2019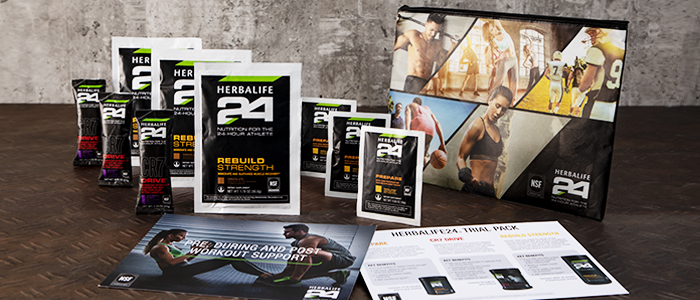 "Sports nutrition isn't just for elite-level athletes. If you elevate your heart rate during any activity, then congratulations – you're an athlete!"
– Dr. Dana Ryan, Ph.D., MBA, M.A., Director, Sports Performance and Education
Enjoy the benefits of everyday sports nutrition with the Herbalife24® Trial Pack!
Featuring on-the-go packets of our most popular products, now you can experience the results of Herbalife24 wherever your active life takes you.
Each pack contains a zip pouch with nine single-use packets:
BEFORE: 3 – Herbalife24® Prepare

Formulated with caffeine, Nitric Oxide precursors, and creatine to help you perform at your best before your workout*

DURING: 3 – Herbalife24® CR7 Drive

A unique blend of carbohydrates and electrolytes for enhanced hydration to sustain performance during your workout

AFTER: 3 – Herbalife24® Rebuild Strength

Contains 24 g of whey and casein proteins to help recover, repair and support the growth of your muscles after your workout*
*These statements have not been evaluated by the Food and Drug Administration. This product is not intended to diagnose, treat, cure or prevent any disease.